It would be best if you remembered that you would come across pool cue wraps, whether you are playing a game of pool or billiards.
And if you never knew, the Pool cue leather wrap has been designed to provide more grip to players. In other words, they will give more grip on your opposite hand than your bridge hand.
Interestingly, leather cue wraps are known to protect the pool cues. Note that cue wraps are roughly thirteen to fourteen inches in length. And they are positioned a few inches from the cue's butt.
Remember that they are usually made from leather, Linen, or rubber.
Best Leather Wraps
The moment you have been waiting for is finally here. And now, we will present some of the best leather wrap for pool cue. They include:
1. The Brown Elephant Ear Type Embossed Cowhide Wrap
One thing you should know about the brown elephant ear-type embossed cowhide leather wrap is that it is known to be the most consistent wrap you will find. So, if you have been in the billiards field for a while, you will indeed have seen them.
As one of the best leather wrap for pool cue, it is made with pliable and fine-grained high-quality leather material. It is one of the best in the market, as it is soft and provides a powerful grip even when taking challenging shots.
When it comes down to its looks, it is practically similar to all other leather wraps. However, this wrap has a dark chocolate brown color and a semi-gloss finish. It is a stylish pool cue wrap with a chic elephant ear design.
This wrap is fourteen inches long to cover the entire pool cue. The thickness is 0.55mm to 0.65mm. The pros are:
• Durable quality
• Offers a tough grip
• Uniformly thick
As for the con:
• Installation needs a professional
Why We Love It
Aside from the fact that you cannot install it on your own, you will love the cowhide the manufacturers used to make this product. The tough grip has helped me in every game I have played.
2. The CueFits Ostrich Leg Embossed Cowhide Leather Wrap
For those who need stylish processed leather, you are in for luck as the Cue Fits ostrich leg embossed cowhide leather wrap is rated as the best leather wrap for pool cue.
It comes with a design in its middle that runs from one end to the other. It gives it the Ostrich leg look. You will find other amazing patterns at the sides of this ostrich leg design.
This is the one for you if it comes down to uplifting the looks of your cue when playing with friends. Aside from its design, it has fantastic quality, and its performance is simply outstanding.
Understand that the quality of this cue wrap is the determining factor. The cowhide used is of top quality. Furthermore, this is a durable product as a leather wrap will last a long time.
It is made in red and black color, plus you will love its semi-glossy finished surface. It is a wrap that comes in one piece and has a thickness between 0.55mm to 0.65mm.
The pros you will find here are:
• Eye-catching design
• Highly durable
• Tough grip
As for the con:
• It is quite expensive
Why We Love It
Aside been on the costlier side for some people, this wrap has a pretty good grip that feels good to the touch.
3. The CueFits Black Shark Skin Print Leather Wrap
The Credits black skin print cowhide leather wrap is one of the most affordable wraps ideal for pool amateurs. However, if you love your cue handles having great style, then, unfortunately, this specific brand is not for you.
This is because it comes in a fundamental textured design. So while you cannot flaunt this particular stock around your friends during a match, the quality and grip cannot be contested.
It has a grainy, textured surface that offers the best grip possible. However, an amateur may likely lose their grip on this cue. More so, when you need to install the wrap, special tools are needed.
And these tools are not included in the set. So, whenever you are ready to install it, you should get an expert to help with it. Since it is made available in black and not even dark brown, it has a semi-matte finish on its surface.
The length of this wrap is 13.5 inches, with a thickness of 0.55mm to 0.65mm. Interestingly, it comes in just one piece with a weight of ten grams.
The pros are:
• Offers great grip
• High-quality cowhide
• Highly durable
As for the con:
• More cost for professional installations.
Why We Love It
Aside from spending more on the professional, it gives you the ideal grip you need to win your match.
4. The Lizard Embossed Cowhide Leather Wrap By CueFits
One thing to have in mind about CueFits is that they are a trusted brand in the leather wrap market, as you can easily search and find their stock. Furthermore, as a customer, you will love this brand as you are bound to purchase highly durable leather wraps from them.
If you are someone of elegance who tilts towards the style and looks of your cue wrap, you can easily purchase this product. It comes with a stylish design that will easily upgrade the looks of that pool cue of yours.
Aside from its looks, this product stands out because of its quality and grip. It is made from top-quality cowhide and is suitable for sweaty hands.
This leather wrap comes in one piece and will need special tools and accessories, not just glue, when it comes to its installation. Unfortunately, the tools and accessories cannot be found in its set.
This wrap comes in a length of 13.5 inches which will fully cover your pool cue. The thickness is 0.55mm to 0.65mm. And you can get it in black and not just white but not in dark brown.
The pros are:
• Anti-slip textured surface
• Consistent thickness
• Highly durable
As for the con:
• Extra tools needed
Why We Love It
Aside from the extra tools you will buy, it comes at a great price. I love that the cowhide material is top-quality and suits my sweaty hands.
Read more How To Change The Weight Of A Pool Cue?
The Different Types Of Wraps
When you are at the table or need to search for a cue, understand that so many things you will find on the pool cue are cosmetic aside from the wrap.
More so, you will find diverse leather wraps that provide various levels of moisture decrease and grip. So now that you know the best leather wrap for pool cue to buy, you should know the wrap available.
They are:
• The Rubber Wrap
For those who sweat so much on their hands, the rubber wrap is the best choice to buy. However, the people who choose it do so because of their grip and how ideal they are for sweaty hands players.
This wrap is ideal for break cues wherein plenty of control and power is needed. But the downside of rubber wraps is the fact that the user can lose remote control on great shots due to the grip they offer.
• Leather wrap
The leather cue wraps are ideal for most people as they provide lots of control and grips. However, they are known to be between Irish Linen and rubber when it comes down to grip.
Bear in mind that there are two types of the leather wrap. They are the stacked leather wrap and the standard leather.
For the stacked leather, you will find them on the pool cue in strips, almost like the Irish Linen. They tend to feel like standard leather if they are appropriately placed. Nevertheless, they enable more colors, be it black or dark brown.
And they have more patterns. Standard leather looks like the leather you will find on a wallet or vehicle seat. However, they give a smooth feeling and do not have the same texture as the stacked leather.
However, both provide a good amount of grip though the stacked leather is known to give a bit more.
• The Irish Linen
This wrap provides the least amount of grip than all others, even though it is smooth. So if your hands are sweaty, you should avoid this wrap, no matter the color it comes in, be it dark brown or black.
It would be best if you went for leather or rubber, as Irish Linen is ideal for those who play with finessed and need wraps that enable manipulation of the cue.
This wrap is great for shots that demand more accuracy than power. Unfortunately, they are not great for break cues.
Factors To Consider When Buying Wrap For Pool Cues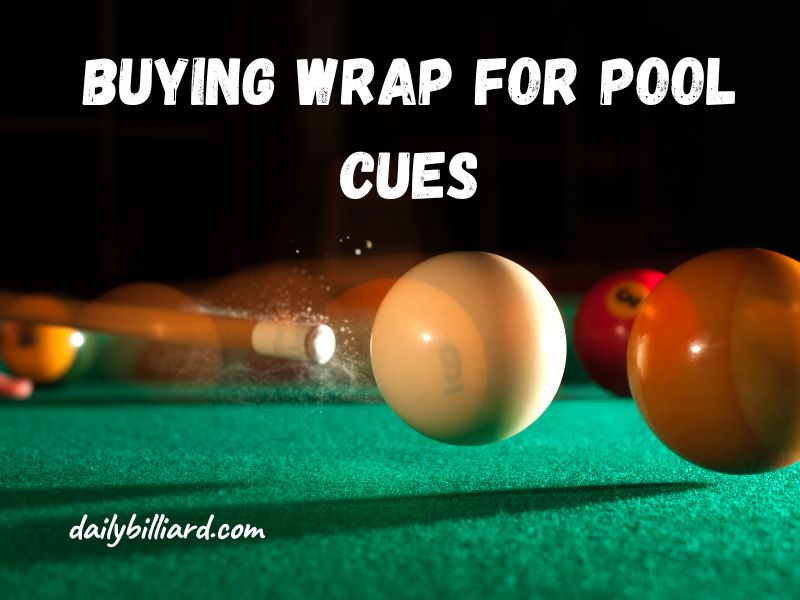 When buying the best leather wrap for pool cue, understand that everyone does not use the cue wrap. Those who do not use it do so because they do not want to spend money on other accessories. It helps them save money.
However, a serious billiards player will know how vital the wrap is to their game. A good grip on your cues will immediately elevate your performance level.
So, some factors you should consider are:
• The Price
When it comes to price, the pool cue wraps are generally split into a moderate price range and one that is not overwhelmingly expensive.
Nevertheless, a pool cue's price range will depend on the material's quality, wrap type, design, and style.
For the amateurs thinking about price, having to buy those fancy wraps with intricate designs. So naturally, their price will cost you more than a regular simple wrap.
It means that a basic rubber or leather wrap will be good enough.
• Type of Materials
We have outlined three fundamental types and given you a good description of each of them that you can find on a website like amazon.
However, the type of materials you choose will depend on the grip, styles, and durability sold by the manufacturers. For example, those with sweaty hands will need leather wrap materials or rubber cues.
Conclusion
We have successfully provided you with the best leather wrap for pool cue. Endeavor to read through so you make the ideal choice before your next match with friends.